As the year draws to a close, we're all eagerly anticipating the arrival of the year of the cat. Let's take a moment to review what SmartDev accomplished in 2022.
SmartDev was founded in 2014 and acquired in 2019 by Verysell Technologies, a Swiss Technology Group. In late 2021, we were chosen as Winner of SME100® Fast Moving Companies, which motivated us to begin 2022 in an even more determined and upbeat manner.
Let's explore 9 key highlights of the SMARTDEV story in 2022.
1. 175% Revenue Increase
In 2022 SmartDev continued to grow very fast demonstrating 175% revenue growth year to year! We would like to thank our excellent customers for entrusting us and allowing us to join forces with their knowledgeable team to create innovative and powerful apps and services, especially in Fintech domain.
2. Doubling our team
SmartDev doubled in size compared to where it was at the end of 2021. We welcome people from all over the world to join us in our mission to create a true multi-cultural working environment.
3. Hybrid Working Policy
We welcome many new members from different regions across Vietnam through our hybrid working policy. SmartDev is a fantastic environment for young, dynamic IT workers who enjoy working in companies with a 'melting pot' of cultures.
4. New Agile Office
Our 1000m2 Agile office building was constructed in Hai Chau District, the heart of the city of Danang Vietnam. Through our Open Space concept, people from one team or several departments can meet freely and discuss with one another, in accordance with the Agile method. We have a big and well-equipped pantry, flexible open spaces, five personal meeting rooms and three large meeting rooms for teams of between eight and twenty people.
5. Opening of our Hanoi office
We opened our office in Hanoi in a level A co-working space on Xuan Thuy Street – Hanoi's very own Silicon Valley. We want to foster the development of SmartDev, with up-to-date technology such as Artificial Intelligence, Machine Learning, Blockchain…
6. Evolving our Core Functions
We worked hard to sharpen the core structure of our team, to boost our growth trajectory for the upcoming years. We have recruited several key positions and set up key functions & roles: a Marketing Manager, a Head of Engineering, Section Unit Managers and more Sales Development Representatives.
7. ISO27001 certified
SmartDev wants to show its customers, partners, and other stakeholders that their information is always secure. We have achieved ISO 27001 certification status in 2022. The process involves constant compliance monitoring in three phases, which includes becoming certified. The security protocol comprises of a total of 114 controls across 35 control categories, all of which are standardized.
8. Activities for Students
SmartDev has been involved in multiple events for freshers and other students in Danang and Hanoi. It is our way of reaching out to the younger generation and keeping our talent pool updated in both locations. We've been involved in 18 events in 2022 including: Google I/O Extension, a series of seminars, job fairs at Universities and Colleges and have done multiple office tours. We have made agreements (MOUs) with several Universities and Colleges in both Danang and Hanoi.
9. Game & Start-Up domains
2022 witnessed the maturation of our expertise in both gaming (VeryPlay) and startup development (Smart81) As the main member of the group, SmartDev strongly benefits from the new group expertise, which extends the services we offer to global clients. VeryPlay was established as a gaming development studio with a range of game services for both clients and game publishers. We combined our startup expertise with our technical resources to create a new brand – SMART81. We advise, collaborate and build enterprise-level technology for early-stage businesses through a variety of bespoke commercial models. Currently, there are 4 business units in Verysell group: SmartDev, VeryPay, VeryPlay and Smart81.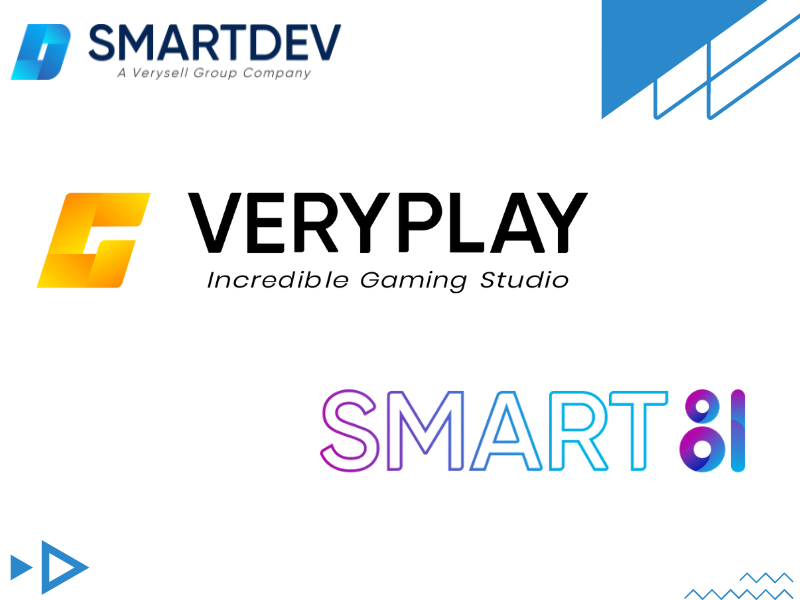 The last 365 days saw us completing four OKR sets. We are still on the long road towards achieving our company wide goal of becoming one of the Top 10 IT companies in Vietnam, but we remain hugely excited for the year of the cat, when we will aim our sights even higher!